Register for FREE to start a discussion
Evolving banknote collection
11 Posts
#1
· February 28, 2019, 1:38 pm
When I started my banknote collection, I had no guidance, or advice on how to even begin one.  My very first banknotes were kind of bland, and not really extraordinary.  The only thing on my mind was, I need to get at least one banknote from each country, and thus I can say that I have all the banknotes of the world.  As silly as that sounded, it made sense to my young uninformed enthusiastic self.
The belief that I held, to gather one banknote or currency from each part of the world, led my quest to assemble a nice sizeable album.  But, here is the rub, it didn't have a lot of significance.   I didn't realize this notion, until I spent quite a lot of money, plus eighteen years to accumulate.
Acquiring the banknotes was fun and exciting, it was a pleasing pastime. My very first banknote was purchased from a coin shop, as they would have the best selection, at least that was my first result.  As I begin to delve further into banknote collection, I learned of coin shows that feature many banknote dealers.
In these coin shows or conventions, is where I spent most of the time buying my banknotes. The banknote dealers had great selections, great prices, great deals, for which I took advantage of and built my collection. My favorite coin convention is located in Long Beach, California, they have them four times a year.
Eighteen years ago is when I submerged into this wonderful hobby, really without a clue, and now I'm at a crossroad, to either continue the same path (collect one from each country), or take a more meaningful approach.  To help me with that decision, I come to think about what I want in the end.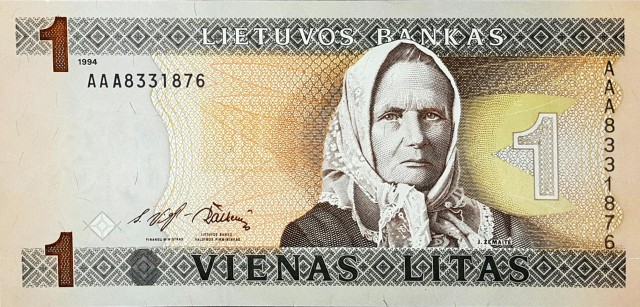 1 Lita from Lithuania, one of the first banknotes in my collection
To give you a small synopsis of me, I like art, historical events, political advents, culture and religion.  With this inclination, my collection took off and grew over time.  But, still there was something missing, as my compilation didn't have a flow.  My ultimate goal In the end, is to pass my collection to another collector.
After much thought, my new banknote collection will consist of year sets and commemorative banknotes.  I think this way, it will cover all aspects of my interests.  It will fill my albums and have a nice flow, at least I think that it will.
If you're a young collector just starting out, you can begin your banknote collection the way I did, such as by country only. Another way to go about is by choosing topics, such as animals, buildings, historical people, landmarks, sports, space, etc.
I would like to know the way you ensemble your banknote collection.  It will be interesting to see other collectors interests.
Click for thumbs down.
0
Click for thumbs up.
0
Last edited on July 15, 2019, 8:29 pm by

gerson
How useful was this post?
Click on a star to rate it!
Average rating / 5. Vote count:
No votes so far! Be the first to rate this post.
We are sorry that this post was not useful for you!
Let us improve this post!
Tell us how we can improve this post?